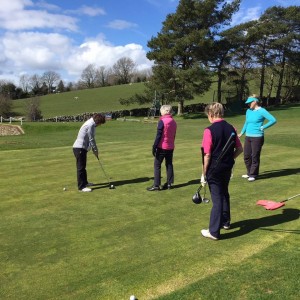 Visitor Green Fees 2021   –  
Playing with a Club Member   –   £10 per round
Non Members  – Weekdays –  
£20 per day      –    £15 for 18 holes      –      £10 for 9 holes
Non Members – Saturdays & Sundays –
£30 per day      –    £20 for 18 holes       –      £15 for 9 holes
Please do check either the playing diary web page or the notice board in the club house on arrival to confirm any competitions in place as competition players do have priority.
County Cards   –   £10 per day
Please sign the visitors book in the Clubhouse, place your payment in the envelope provided and post into the Green Fees box.
Payment must be made prior to commencement of round, greenstaff will check your payments at all times.
All players must possess their own bag of clubs.
PLEASE NOTE
Tuesday mornings there is quite often a Ladies' Competition in place but visitors are still welcome provided they give priority and respect to the competition groups.
On most Sundays during the summer there are Men's Competitions. Again Visitors are still welcome but subject to the numbers playing it can be a little busy until around 3.30pm.
Do check this web site for details of any other competitions in the diary section