GARY WOLSTENHOLME  –  FROM GRANGE FELL TO TIGER WOODS
Gary is well known as one of the leading amateur golfers in the UK. What is lesser known is that it all started for Gary at Grange Fell. As a four year old he had his first golf lessons from the then club professional Fred Robinson and grew up playing alongside his grandfather, founder member of GFGC Tom Hustler.
Gary went on to win two British Open Championships, made six Walker Cup appearances and won the World Amateur Golf Championships team award in Chile playing alongside Luke Donald.
He recalls with great affection playing at Grange Fell with his grandfather, who as a founder member of the Club presented the 'T.B.Hustler Trophy' to the Club to be played for the Men's Scratch Champion each year.
Gary has played with some of the greats of golf including two rounds at the Masters in Augusta in 1998 with Arnold Palmer, rounds with Seve Ballesteros, Tom Watson and Jack Nicklaus. But he will be remembered for defeating Tiger Woods in the singles matches of the Walker Cup at Royal Porthcawl in 1995. He has played in two Open Championships, two Masters at Augusta and the US Open.
Gary turned professional with an eye to playing on the Seniors Open Tour and now regularly tees up with players such as Sandy Lyle, Ian Woosnam and Bernhard Langer. He has already claimed Seniors' Tour victories in the Czech Seniors Open, at Casa Serena, and the Australian Seniors Open in Perth.
Gary has had a great golfing career but he fondly remembers his roots playing as a child at Grange Fell. In April 2011 he returned to play at 'The Fell' in a four-ball with Club President, Richard Tyler, and two past Captains, Nigel Higginson and Alan Johnston. He recalled with great affection the course layout and commented on the few changes to improve the facilities. He looks forward to returning soon, when his busy schedule permits, and to playing yet again at Grange Fell.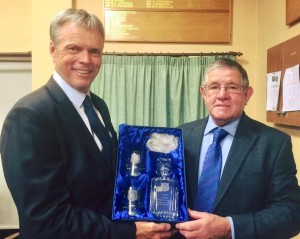 Gary Presenting Colin Park with the TB Hustler trophy for the Club championship in 2016